Journey to the Sinking Valley (Meet me on Google Earth) / Myth-building workshop

2020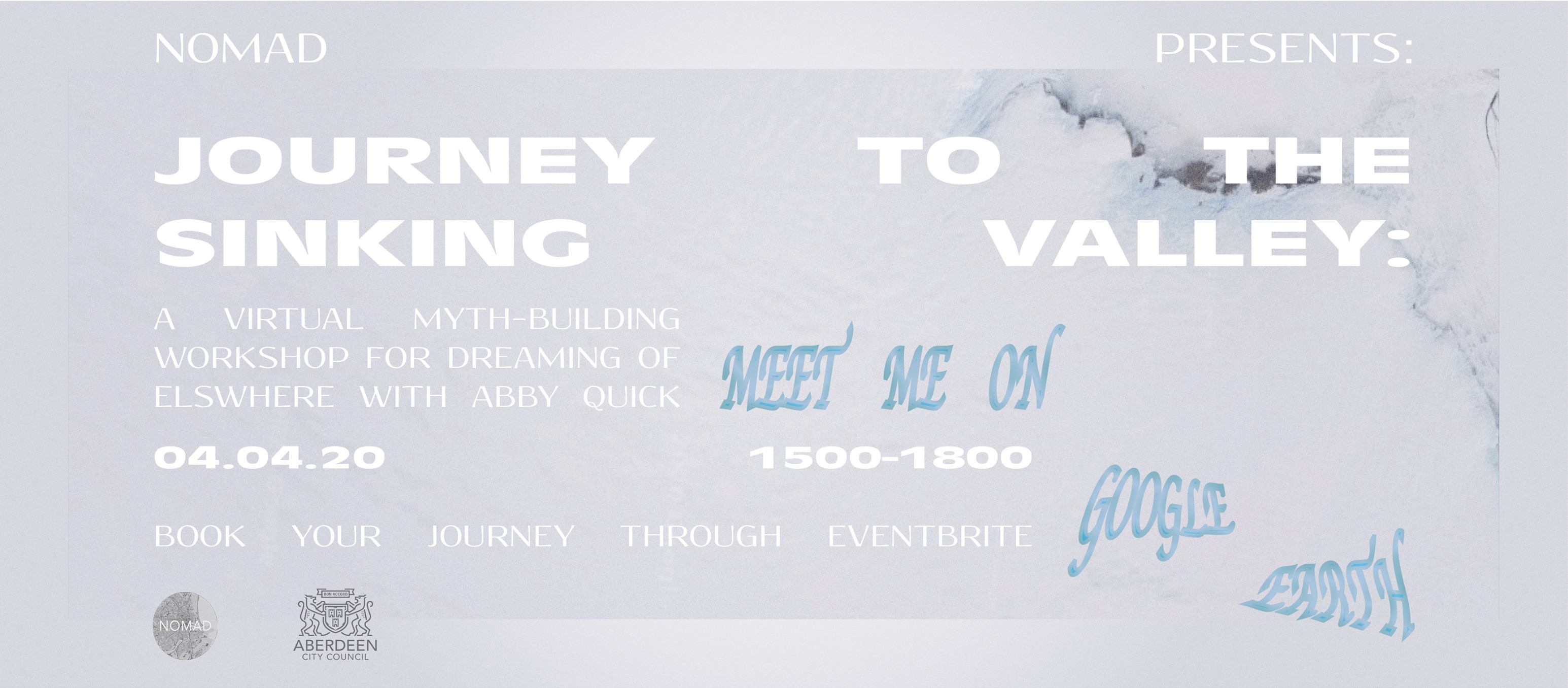 Nomad invites local artist Abby Quick to run a virtual myth-building workshop exploring themes of place and hyperreality in the techno-sublime, or to dream of elsewhere.



𝓙𝓸𝓾𝓻𝓷𝓮𝔂 𝓽𝓸 𝓽𝓱𝓮 𝓢𝓲𝓷𝓴𝓲𝓷𝓰 𝓥𝓪𝓵𝓵𝓮𝔂: 𝓜𝓮𝓮𝓽 𝓶𝓮 𝓸𝓷 𝓖𝓸𝓸𝓰𝓵𝓮 𝓔𝓪𝓻𝓽𝓱



𝒜𝓂𝒾𝒹𝓈𝓉 𝑒𝓁𝒹𝑒𝓇 𝒶𝓃𝒹 𝒷𝒾𝓇𝒸𝒽 𝓁𝒾𝑒𝓈 𝓉𝒽𝑒 𝓉𝒽𝓇𝑒𝓈𝒽𝑜𝓁𝒹 𝒷𝑒𝓉𝓌𝑒𝑒𝓃 𝓉𝒽𝑒 𝑒𝒶𝓇𝓉𝒽 𝒶𝓃𝒹 𝓉𝒽𝑒 𝒮𝒾𝓃𝓀𝒾𝓃𝑔 𝒱𝒶𝓁𝓁𝑒𝓎, 𝓌𝒽𝑒𝓇𝑒 𝑜𝓊𝓇 𝒿𝑜𝓊𝓇𝓃𝑒𝓎 𝒷𝑒𝑔𝒾𝓃𝓈. 𝐼𝓉 𝑜𝓅𝑒𝓃𝓈 𝒾𝓉𝓈𝑒𝓁𝒻 𝓉𝑜 𝓉𝒽𝑒 𝑒𝒶𝓇𝓉𝒽𝓁𝓎 𝓇𝑒𝒶𝓁𝓂 𝑒𝓋𝑒𝓇𝓎 𝓃𝑜𝓌 𝒶𝓃𝒹 𝒶𝑔𝒶𝒾𝓃, 𝑜𝓇 𝒾𝓃 𝓉𝒾𝓂𝑒𝓈 𝑜𝒻 𝓊𝓇𝑔𝑒𝓃𝒸𝓎.



𝒯𝒽𝑒 𝒱𝒶𝓁𝓁𝑒𝓎 𝑒𝓍𝒾𝓈𝓉𝓈 𝒶𝓈 𝒶 𝓊𝓉𝑜𝓅𝒾𝒶, 𝒶𝓃𝒹 𝓈𝑒𝑒𝓀𝓈 𝓉𝑜 𝓅𝓁𝒶𝓃𝓉 𝓂𝓎𝓉𝒽𝓈 𝒾𝓃 𝓉𝒽𝑒 𝒻𝓊𝓇𝓇𝑜𝓌𝓈 𝑜𝒻 𝓉𝒽𝑒 𝓂𝒾𝓃𝒹 𝓈𝑜 𝓉𝒽𝒶𝓉 𝓉𝒽𝑒𝓎 𝒷𝓁𝑜𝑜𝓂 𝒾𝓃𝓉𝑜 𝒶 𝓉𝒽𝒾𝒸𝓀𝑒𝓃𝒾𝓃𝑔 𝓈𝒶𝓅 𝑜𝒻 𝒻𝓊𝓉𝓊𝓇𝑒 𝒽𝒾𝓈𝓉𝑜𝓇𝒾𝑒𝓈 𝒶𝓃𝒹 𝓅𝑜𝓈𝓈𝒾𝒷𝓁𝑒 𝓌𝑜𝓇𝓁𝒹𝓈.



𝐼 𝒽𝑜𝓁𝒹 𝓉𝒽𝑒 𝒱𝒶𝓁𝓁𝑒𝓎 𝒾𝓃 𝓂𝓎 𝑔𝒶𝓏𝑒 𝒻𝑜𝓇 𝓈𝑜𝓂𝑒 𝓉𝒾𝓂𝑒 𝒷𝑒𝒻𝑜𝓇𝑒 𝐼 𝓂𝒶𝓀𝑒 𝓉𝒽𝑒 𝒿𝑜𝓊𝓇𝓃𝑒𝓎 𝒾𝓃𝓉𝑜 𝒾𝓉𝓈 𝑒𝓉𝒽𝑒𝓇.



Through a series of wayfaring tasks, participants assume the roles of cyber-voyagers, archaeologists of collective memories, scribes for possible futures, techno-folklorists, or something in-between. The objective of the journey is to unfurl possible and future mythologies, with resulting works as artefacts from these mirrored worlds.



Free to attend, dreaming encouraged and no prior myth-building experience required.



Travellers may book through Eventbrite, and will receive a link to join a webinar platform prior to the event.